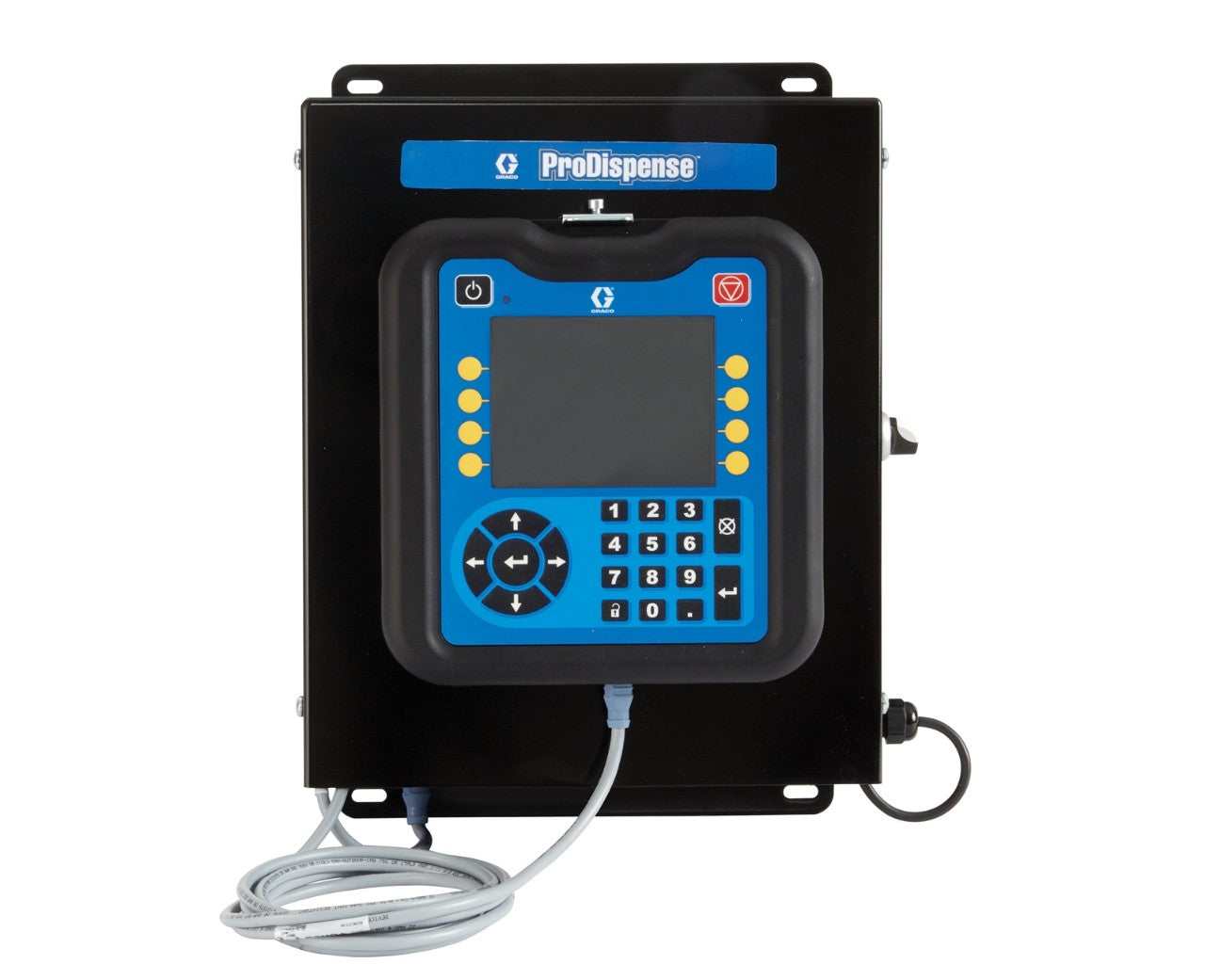 ProDispense
Pickup currently unavailable at Toronto
Toronto
Pickup currently unavailable
291 Clements Road West
Ajax ON L1S 3W7
Canada
+18003488868
Montreal
Pickup currently unavailable
9605 Rue Ignace
Brossard QC J4Y 2P3
Canada
+15147331600
Calgary
Pickup currently unavailable
1165 J 44th Avenue Southeast
Calgary AB T2G 4X4
Canada
+18003488868
Vancouver
Pickup currently unavailable
68 Schooner Street
Coquitlam BC V3B 7B1
Canada
+18663488868
Edmonton
Pickup currently unavailable
7503 Girard Road Northwest
Edmonton AB T6B 2H2
Canada
+18003488868
Fast and Accurate Dispensing
Graco's ProDispense is a cost-effective and user-friendly electronic system that dispenses preset amounts of fluids. The ProDispense system allows durable goods manufacturers to quickly and accurately fill cavities with oil, grease, water or other industrial fluids in assembly line environments or dispense fluids where accuracy is essential. ProDispense can deliver up to eight different fluids at multiple dispense points, accurately measure volume, track material usage and report results in either non-hazardous or hazardous areas.
Operating Precision
User interface provides simple operation and data entry. Each dispense will deliver the correct fluid volume or the system will alarm.
Full color display shows dispense status
Progress of each fluid and overall recipe dispense
Recipes programmed to specific fluid, volume target and dispense order
Flexible Configurations, Flexible Locations
Whether managing one fluid or up to eight, operating from hazardous or non-hazardous locations, ProDispense gives you total control.
Consistent Dispense
Deliver the exact volume of fluid every time
Dispense one fluid or many fluids at a time
Multiple Dispense Options
Station (manual) mode: Dispense activated by operator
Recipe (automatic) mode: Recipe controls order and amount of fluid dispensed
Combination dispense: Recipe includes automatic and station mode dispense
Wide Dispense Range
10 cc to hundreds of gallons dispensed with an accuracy of ±1 percent or less
Easy Integration
Local or integrated control
Connects to PLC and barcode scanners
Network data collection